Object lessons for travelers, authors, bibliomaniacs, and those who admire mummies and Hemerocallis
Draft of 2004.06.24 ☛ 2017.06.15
May include: books ↘ digitization ↗ expeditions ↖ &c.
We've just returned from an expedition of about 1500 miles, with about 1500 books.
When I said I'd go get them, I knew very little about them. When I saw them, I was embarrassed and sad. Now that I've handled each and every one of them… well, I'm happier than a clam. And clams, I am told, are quite happy indeed.
A few weeks ago, in my normal daily eBay shopping I happened across some very interesting antiquarian books on eBay. These were not just "vintage" or "nice old" books, but real and valuable antiquarian treasures. When I checked the seller's other auctions, I saw a lot many of those were just as interesting. I placed a few bids.
I won them.
For a few dollars or even cents each.
She kept listing new stuff.
Somewhere in one of our correspondences regarding payment and shipping I nonchalantly asked—because my wife Barbara has been enjoying participating in Project Gutenberg so much, and because the few dozen books I had received were in worn but still fascinating (and still very, very valuable) shape—whether the seller had any more like that. Who knows: maybe some that were more beat up than she was willing to get rid of cheap, or maybe some that were missing covers but complete (for Project Gutenberg)?
Or maybe—just in case, you know—more nice old unusual stuff like I had already bought from her?
Her answer was very close to, "Sure! How many you want? I bought a barn-full, and I want to get rid of them all real quick!"
Now it should be obvious to anybody who knows me—whether just from reading here, or from reputation, but surely anybody who has visited our house—that I am a bull when it comes to rare books, and that a statement like this is a big flapping red flag. Here I sat, reading that email, and my head turned up and I squinted calculatingly across the room at the stack of rarities she had sent me already, and I closely examined her other eBay auctions… you could hear little machine noises and churning and lightbulbs flashing and popping, and all sorts of metaphoric scheming noises (let alone the literal gurgling) emanating from me.
Barn. Full. Books.
I mean, what else could I do? "How many is a 'barn-full'?" I replied, with forced nonchalance. Her answer was rather ambiguous but encouraging. A lot. More than a thousand.
Lots of old books.
For the next few days, the passer-by might hear sounds of carefully-timed revelation, pleading, cajoling, and the like coming from our household. Detailed maps of Virginia and West Virginia were bought. Cars were rented. Plans were made and changed and calendars pushed out and….
Well, we're back. The books we have brought home are lovely, exceeding both my initial expectations, and definitely beating the first impression they gave. Some, yes, some are now gone on to better lives as nascent soil… but many survived, or have been resurrected, and so will grace bookshelves here and elsewhere as their authors intended.
This is the story of a road trip. We went uninformed and on a lark. We arrived at our destination with trepidation, after adventures involving the Civil War, mummies and thousands of daylilies. What we found seemed disappointing on the face of it. But by the time the dust had settled, and we saw what we had in our hands, the delight came back. With interest.
8:48am 20 June 2004 [odometer reads 33 miles]

Barbara and I set out in a rented Dodge minivan from her parents' house in Plain City, Ohio. It is a minivan, and not our own pickup truck, and the seats of the minivan have been left at the rental place for more room because the seller (call her JH) said, "Oh, yeah, they should all fit in a pickup truck. We brought them home that way from the sale where we bought them." But at the same time, she tells me there are about 1700 books.
Now because we're moving, Barbara and I have been packing books for months now—ours, my Mom's, my Mom's friends'—and I can tell you than our truck holds exactly 14 book boxes under the tonneau cover, and also that each box holds no more than about 40 books, unless they're dinky little paperbacks. Something doesn't gibe in the "one truck-full" and "1700 of them" numbers. There's a clear volume/density incongruity happening.
Well, sure, we could leave the tonneau cover off, and stack them up like the Beverly Hillbillies. But, but… if it should rain in the 500 miles we need to drive them back, they'll get wet! Wet! (Ironically, on this first morning, in my ignorance of the events to follow, I still believed that a little water would ruin the nice pristine old books we were going to rescue. Heh. In hindsight, it would have improved some.) At all costs one must protect the books, old books in particular.
Erring on the side of the "1700" and not the "one truck-load", we are driving a seatless rented minivan, with 33 miles on its odometer.
9:40am 20 June 2004 [69 miles]
We've cleared Columbus, and it's a beautiful crystalline high-pressure Midwestern summer day. Spirits run high. The land is lush and green, and the hints of the Appalachians are starting to show.
Well, not entirely lush and green: what exactly is wrong with the locust trees near the Ohio River? They're plentiful, and seem to have some new growth, but on every one the older leaves seem sere and brown. Do cicadas do something to them? Is there some new bug we need to worry about? I really need to know, since we're considering planting one in the front yard to replace the frickin' pin oak that's dying of some other unpronounceable fungal infection.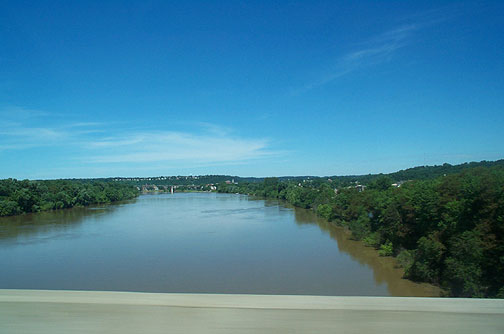 11:29am 20 June 2004 [179 miles]
West Virginia. State lines are an arbitrary and purely social construct but nonetheless a worthy milestone. We've crossed the Ohio river, and are one step closer to our goal.
Along the way, we have been discussing plans of attack. We have this day of beautiful sunshine, and the next day of potential clouds and rain. Barbara suggests that we take the slower, more touristy route to Staunton, VA by way of US 50 and US 250, via Parkersburg and Phillippi, WV and Monterey, VA. I recall a note I saw on the Road Geeks website asking for pictures of the old signage at the original end of US 250 in Grafton, just along the route Barbara has mentioned, so we head off for Grafton as a stopping-off point.
11:43am 20 June 2004 [190 miles]
Lunch at the Parkersburg, WV McDonalds. Why is it, Barbara will ask some hours later, that the builders of West Virginia's roads cannot manage to place food and services any closer than 3 or 4 miles away from the main road? Is it to maintain a semblance of unspoiled country life?
1:35pm 20 June 2004 [279 miles]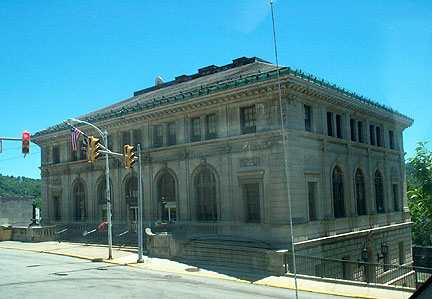 Grafton, WV. An interesting little town, filled with lovely brick and gothic stone architecture, all in relative disrepair. Their post office is impressive, set alongside the railroad and towering several stories into the air. Their banks and courthouse and other buildings and ruined mansions are also impressive, flattered by the brilliant sunlight. Many pictures are taken (from the car, to save time). The Baltimore & Ohio railroad terminal is especially nice.
Wish we had more time to visit this area. It seems quiet and nice. But we can't find any noteworthy signage to photograph. I'd feel better about submitting arbitrary snapshots if we could determine the actual historical end of the road.
1:50pm 20 June 2004 [284 miles]
Webster, WV—"Home of Mother's Day" Charming little mountain town.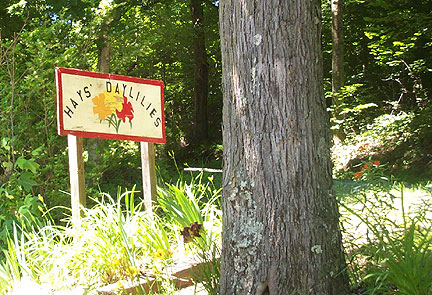 Hang on—what's this? We find a place to do a U-turn (not a simple matter on a West Virginia country road), and head back a half-mile to see Hays' Daylily Farm. Hemerocallis is a favorite around our household, and after all this is our vacationish day, and after all we're here and we've never seen a daylily farm, so… Down a long and winding single-lane gravel road, up a rolling hillside, and thence to a lovely broad expanse of sunlit beds. Thousands of blooming (early early, this time of year) daylilies. Are they open? There's no "Open" sign? Me, I fret about these things, don't want to bother folks on Sunday. Is it a house? A business? Are they open? Are we being rude?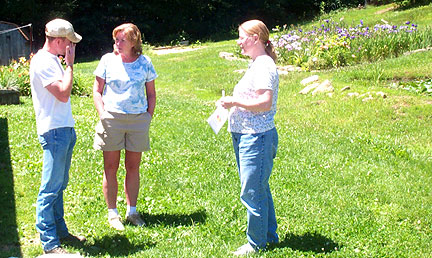 One shouldn't worry about these things too much, I realize in hindsight. The Hays family are home, and it is their home, and they're great folks and own and sell some amazingly pretty flowers. As is often the case with hobby-related businesses, they originally started selling their lilies so they could make more room for the new ones, and now they have a catalog of several hundreds. Lise and her son were out working on the labeling, and we chat for some time (here they are with Barbara) about the various merits and dangers of waterproof markers, metal tags, plastic ties, and sun-bleaching.
The ironic juxtaposition of daylilies and books should be pointed out, as it was that afternoon. Hobbies gone wild. Here we all are, surrounded by the extras of our hobbies gone wild. Though their hobby brings them in contact with wondrous, appealing stuff like frogs and decorated dragonflies; mine with icky silverfish and mildew.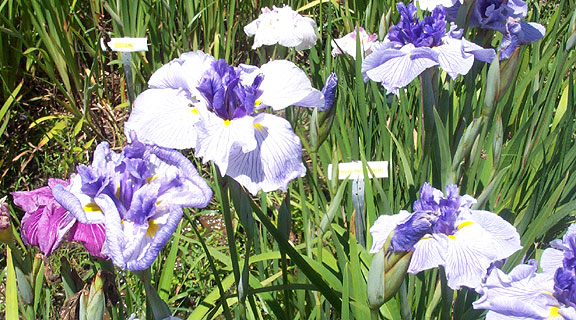 Not only are there daylilies that the Hayses have collected for themselves through the years, but special Hays-bred Hemerocallis, and Asian lilies in respectably vivid hues, and also Japanese irises. Beautiful plants I've never had an eye for, but here presenting an strikingly robust yet frilly habit. Another thing to accumulate, someday.
After the books.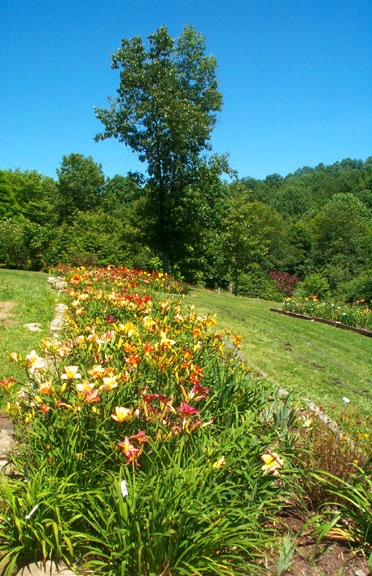 But the daylilies. I try to situate myself to take an overall picture of their beds, but there are a dozen beds at least, all containing several hundred plants. Not a chance—the horizon is too close to get them all. Instead, we chat, run around oohing and admiring, noting that there was no rust apparent, and listening to what I can only assume was a mockingbird loudly impersonating in turns a bluejay, a cardinal, the distinctive and well-known "screeeeeee" of the red-tailed hawk, and a crow. (Unless that was a really crowded oak tree.)
We promise to return. And we will. My Mom will want to see them. I want to see them. If you live in a place where it can be arranged, you really ought to go see a thousand or so different daylily hybrids, all in bloom at once. Try July in Michigan, and earlier farther south in the US.
And if you're in the area, try the Hays' Daylily Farm, in about two weeks.
4:00pm 20 June 2004 [300 miles]
All the way to Philippi, I have a loose memory rattling around in my skull. What is it about Philippi? We have no guidebooks since we didn't expect to be here at all, so it can't be something I read recently… ahh, well, we'll just have to look—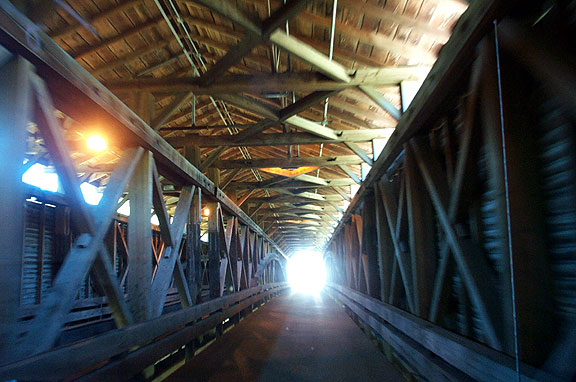 What's this. A covered bridge? An interesting bridge. An old bridge, clearly. Ohh, blast, now this is really starting to feel familiar from something I've seen, yet I've never been here… what is it about Philippi?!

Aha! From the gas station across the bridge, looking back towards the northern part of town, an image of the old train depot sparks the memory! From a TV show watched late at night, Discovery or National Geographic or Fox…. Mummies! The Philippi Mummies! I nab Barbara as she comes out of the gas station, and we drive back into the little depot museum. Surely, they will know something about the mummies!
Unanticipated forteana: always a plus.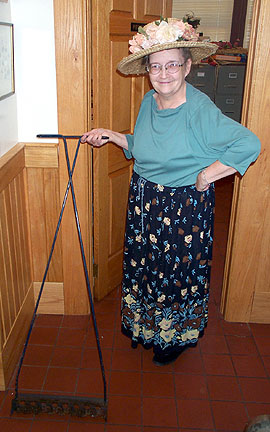 When we walk into the museum, we meet Olivia Sue Lambert, the volunteer curator. First thing she does is tell us the historical museum is free of charge, and we should enjoy our visit. Second thing she does is look me in the eye, then looks us up and down, then says with a grin, "And if you'd like to see the mummies, there's a dollar-a-person charge."
Hurrah! She not only knows about the mummies, she has them readily at hand.
Ms. Lambert is a lovely lady, full of humor and anecdote and a delighted enthusiasm regarding the things and stuff that have been entrusted and accumulated here in the Barbour County Historical Museum. Not least the militaria (we hear about the Philippi Races, the first land battle of the Civil War, and how it came to be called by that unusual name), the bridge (we learn how its inventor won the contract for building it by standing on his scale model, embarrassing the other competitors who could not; we learn how it was the site of the battle; we learn how not long ago it blew up and burned, yet was simply scraped clean and set back in place), the category 1 hurricane of 1985 that submerged the town and the building (and the memorabilia and the mummies) for several days, the odds and ends that folks find in the dirt and their attics and bring in 'acause they're old, which are then identified in many cases by the visitors). And she shows us a miraculous lawnmower. I suppose said lawnmower might be considered the least of the marvels by those enamored of battles and famous names and the like, but I assure you it was a fascinating thing I can't begin to describe here, for it functions in a manner utterly unlike any extant lawnmower one may see today.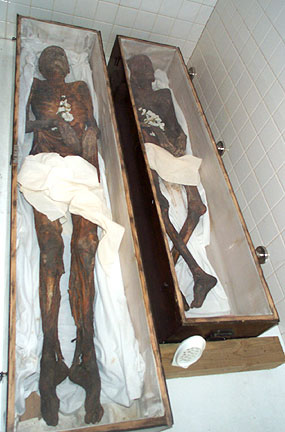 I am embarrassed to say, however, that all during this extravaganza I tend to check my watch. In hindsight I wish I hadn't rushed things—I wish we'd just given up the day at this point and settled there in Philippi for the night and spent another hour or two in the museum and the local environs. But alas I ask, if politely and in a roundabout way, about the mysterious closed door for which we had paid our two greenbacks.
And so we get to see the mummies. We learn a great deal about them. They are the bodies of the insane. The means of their nigh-miraculous preservation is not only known, it's patented. No mercury or arsenic was used in their preservation, but rather a safe, cheap and in fact potable embalming mixture was used to preserve them—and do please recall that they were under water for four days straight when Hurricane Juan hit. These sad mad dead folk are really and truly preserved.
Much more information passes amongst us (in both directions, since of course we add our own observations and insights to the mix), but I fear I do not have the time to spell it all out here. We discuss the wonders of Civil War period Howitzer shells, and partial weapons lost by famous and sometimes foolish generals, the letters of semi-famous people, the pleasures of well-preserved furniture, the odd rocks that are brought to the museum by kids and turn out to be of great interest, and drums that were at the battle of Appomatox.
I heartily recommend the Barbour County Historical Museum as a destination—along with the Hays's place—and frankly pine for a day or two to spend the area. We missed the renovated mansion, the historic downtown area of Philippi, and numerous other sights of interest in the surrounding area. And everybody should have a chance to chat with Olivia Sue Lambert. Really.
But, but, but. Practicality intrudes in our vacationlet. What with the daylilies and museum, we note that the sun is lowering. Ms. Lambert asks us where we're heading, and when she hears it's Staunton she makes a worried sound and a frowny face and advises us that the mountain switchbacks can be tricky at this time of the day. Sound advice from a local (always take it, except when it comes to the best ice cream in town), so we ask after an alternative route. Since this is the vacationish day anyway, we head down towards Lewisburg, WV instead of Staunton on her advice. Much easier and more straightforward, we are told, and we all three wave goodbye and part for now.
approx 8:00pm 20 June 2004 [429 miles]
In hindsight, I can't imagine what US 250 between Phillippi and Staunton must be like. It must be very, very bad. Like mountain roads in disputed areas of Kashmir, perhaps, full of washed-out gravel ledges over mile-deep gorges, and bomb craters. Because the alternative "straightforward" route suggested by Olivia Sue is an exhausting rollercoaster of high-speed two-lane bends, flashing sunlight and shadows, and crazy mountain drivers. Puking, and avoiding it, is a frequent subject of conversation as my motion-sick wife and I find places to pull over and take a breather.
Three hours later, we arrive.
Aggh. Must. Sleep. Hampton Inn, Lewisburg, WV. Aggh. Nice. Ow. Shoneys. Fine. Eat there.
Ahh, the blessed oblivion experienced by the diligent vacationer. Nothing like it.
9:00am 21 June 2004 [429 miles]
I am awakened this morning by a vivid dream featuring interior designers of the California mode, all short frosted hair and muscle shirts on the buff tan men, and low-slung tight black jeans and long straight hair on the busty women. For some reason we are having our house (well, not our house now, but our dream house of course) redecorated, and are taking bids, and so these people who are unquestionably from some television show or other are one of the bidders on the job. But for some reason they assume they already have the job, even though they are competing against reasonable normal folks who are not going to glue grass on the walls. I recall a mounting sense of frustration and failure to communicate—they are clearly confused by the fact that I don't want to be on television, and couldn't care less what people think. And then some one of them hands me a schedule. It covers four days, and labels the wee hours of the day with things like "living room shots" and "interview with decorator" and "owners painting". My outrage at their presumption mounts, and peaks (in a way that wakes me up) when I see the name of the decorator who is going to be in charge of our house: Oval von Oval.
Remember that name. It will be important later. Not in this narrative, of course—I mean it's just a cool name and should become important. Go ahead, use it. Make it so.
Anyway, today the vacation is over. The day of work begins, and the sky begins to cloud up. Piling omen upon omen, the Student Osteopathic Medical Association has left a plastic discount card under our windshield wiper sometime during the night.
9:11am 21 June 2004 [443 miles]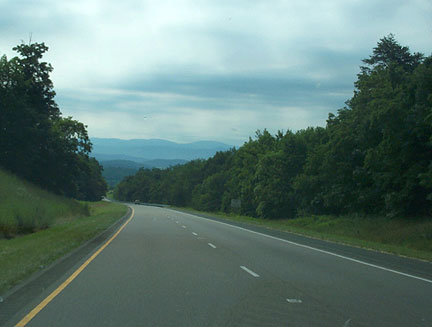 The Virginia border. The mountains are beautiful, even from the freeway—perhaps moreso because one is less prone to puking on the gentler curves. But the gray sky looms low.
10:51am 21 June 2004 [532 miles]
We pull into the parking lot of the Frontier Culture Museum in Staunton to call JH and tell her we're almost there. Mapquest gives us wrong street names (as usual), but we follow the spirit of the instructions rather than the letter, and all seems well.
What, though, is the abandoned antebellum building that sits at the entrance to the Museum parking lot. A lost orphanage, with its windows shot out? A hospital for veterans of the Civil War? The set for a Southern gothic ghost story?
We leave it for another time. A different investigation. If you want to see it, just get off I-83 at the Staunton exit and turn west—you can't miss it.
approx 11am 21 June 2004 [540 miles]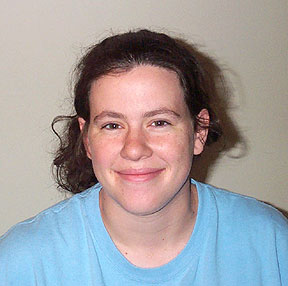 We have arrived. JH and her husband meet us, and we all seem enthused about the process—they're happy to see the books go and the money come in (though I note she's now a PowerSeller on the basis of these books), and we're getting Lots. Of. Old. Books.
JH leads us into their little house, and asks if we're ready. Barbara and I laugh and smile and think (with a slight sense of foreboding) about how it is that we need to be "ready." Is JH simply responding to our excitement? Or is there something we haven't planned for involved here, like a fraying rope bridge across a fiery chasm? I say something like, "Sure! Let's get started, shall we?"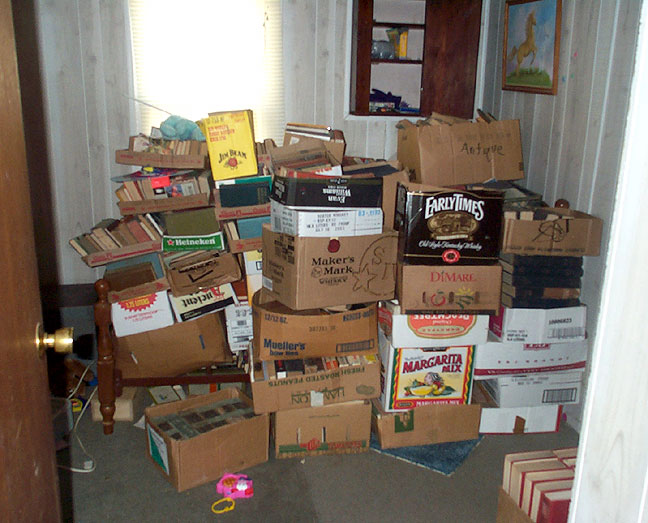 Then JH opens the door to the room she's been using to store the books.
This is the pig in the poke. You have to admit, it has that look, at least at first—a good deal of pig, and not a little poke, too.
Well, well, JH did tell me that there were enough to fill a twin bedframe about five feet high. There's the bedframe to prove it. And, yes, I now can hear her insistence that they'd go into a pickup truck—which is feasible, if they're stacked five feet high. Like the Beverly Hillbillies.
So erring on the side of caution seems to have been a good idea, at this moment.
But there are many mixed feelings. Books, yes. Most of 2000, I think.
They don't give a good first impression. Stacked higgledy-piggledy in old, damp boxes. Dusty musty books in dank damp boxes. We learn from JH that she bought them at an estate auction. The deceased had bought them when a local women's college (Fairfax Hall) closed some years back, and he had stored them for a few more years in a number of barns. She bought one barn-full a few months back, and has been selling some of the choicer morsels since then. But she has no idea what's in the pile, really, since she sortof started up near the top when they were brought into the room, after clearing out the worst rat-nibbled and bird-shat ones.
So we get what we get. Some of the good stuff is gone—but not all. Catch-as-catch-can.
Only fair! Just what I signed up for, I suppose. I sit down at her computer and pay her via PayPal. Then we all gird our loins and stand around staring at the stack with our arms akimbo, and do all the other things people tend to do when surveying a mess of hard work on a hot day, and eventually set to hauling. I recall scratching my chin a few times, for instance. (It's a guy thing.)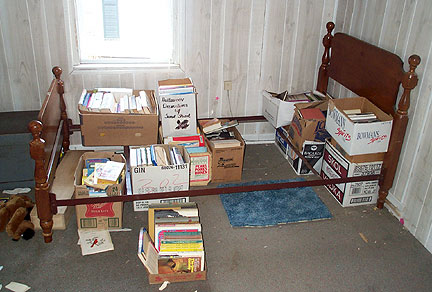 Time passes. We sweat. I rearrange the car. I stuff. I purge. I unpack and repack. I shake my head a lot. Barbara and JH and her husband box and haul and stack stuff and carry it outside into the driveway. Finally, we reach a state of ultimate compression—no more books will go into the car. Some few boxes are left behind, containing children's books and bestsellers, thank goodness. Or I'd've had to strap them on the roof with Grannie.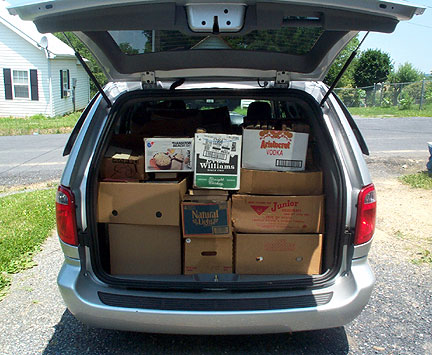 Actually, it's lucky we didn't bring any Grannies. Or the dog. Or thick clothes. This is what the car looks like, just before I slam the tailgate. It is stacked within a foot of the interior roof from the rear door to the back of the front pair of seats. It is sagging, since this many books weigh about a ton I'd guess.
It is also dusty and dirty and stinks of birdshit and mildew and mice, frankly.
In all, it's a wonderful, terrifying prospect. It implies horrors and delights; tragic loss and great profit; intellectual amazement and vast seas of disappointing trash.
After all, it's lots of old books. Books are not merely the objects they are, but also the things they describe.
You have to expect a world-full of such stuff to weigh a lot. And possess a bit of stink. Contained multitudes, for example, are well-known stinkers….
1:16pm 21 June 2004 [543 miles]
As we wave at JH and her husband and son and cats, who are great people and friendly as all get-out, and to whom I hope only the best befalls, the Bad First Impression starts to kick in. There is a bit of smell. There is a deal of dust. Nobody has looked through these boxes for years, in some cases, and at least a few of them were exposed to animals and filth.
What have we got? Is there anything in there worth saving?
Doubts are dangerous things. I mourn quietly to myself at the thought that we may have driven twelve hours through the mountains to buy a ton of silverfish and birdshit, just to haul it back through the same mountains to throw it in the dump.
2:25pm 21 June 2004 [580 miles]
We pull into a Dairy Queen in Lexington, WV to wash up (again, having washed up back at JH's house), and have a snack, and ponder what we've got ourselves into.
There's dirt, and there's dirt. Soil is a good dirt, earthy and ripe with possibility. Dust like that we're covered with, though, well that's allergic dirt, ripe only with the possibility of sneezing and headaches and itching eyes.
Nothing like waiting until you have a closed minivan full of ferocious allergens to make you appreciate the simple elegance of the pickup truck. Would you rather have the windows closed and the air conditioning simply concentrating the bad smells and floating dust, or have the windows open and allow eddies and vortexes to swirl it straight into your eyes and mouth?
A word of warning to sensitive bibliomaniacs: Buy loads of old books from dry locales. New Mexico, or people with radiant heat and not forced-air.
But we don't really know it's all crap, neither literally nor figuratively. Books, covers, and judging: you know what to do with those three things.
Our moderately gray mood is livened by a tasty Dairy Queen chokkit milkshake, and also the sight of a couple of middle-aged folks wearing the most stereotypical Greebrier Golf Resort togs one can imagine. White shirts with logos. Khaki shorts. Sunglasses on black cords. An SUV with a vanity license. Lord, they have to be doctors.
Unless, of course, they're dentists.
3:23pm 21 June 2004 [648 miles]
Back where we started in the morning. Only later.
9:03pm 21 June 2004 [997 miles]
We arrive back in Plain City. Darkness has fallen. Nonstop driving since lunch. Aggh. Must. Sleep. Ow. &c &c
8:10am 22 June 2004 [997 miles]
You realize, of course, that we cannot simply take these books home with us. They have to be gotten out of the boxes, cleaned, dried, sorted, disinfected or washed as appropriate, and trashed if need be. So today and tomorrow shall be known evermore as the Days of the Great Sorting.
And they are two days of revelation and discovery. [If you're tired of reading, you lazy bum, here: we do find treasure. Lots of it.]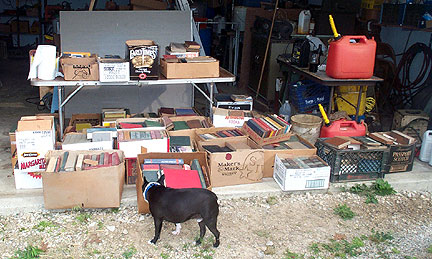 So we set up shop in the garage—mainly by just offloading the boxes into a single layer on the floor and the ground when the floor is full. Jake, our Boston Terrier, finds them fascinating.
His opinion should convey a lot to the astute reader: Jake is a dog who revels in stinks and stenches, who rolls enthusiastically in shits of all kinds, who enjoys a good bug-chase at least as much as any of us. He's captivated by these new objects, investigating them for most of an hour with lots of deep snorking infusions of eau de stinky book, like some sort of canine connoisseur. Bostons have short noses, and need to take deep draughts of air to get much out of them, so he runs his head all over the piles like a wine aficionado snorting glasses of wine at a tasting.
An aficionado who sneezes a lot.
Barbara and I just take drugs. Antihistamines. Decongestants. And wash a lot. Paper towels are everywhere. As we handle the worst books, there is I confess some "eeew"-ing.
In the sunlight this morning, it appears that we have some boxes that look very promising, filled with clean, dry old valuable books. And we also have some boxes that look and feel depressingly like mulch. Used mulch. We see leather-bound spines, but also modern Books of the Month from library sales. We see sets and partial sets and pieces of other sets. We pick at the edges and see some very odd and exciting things. There are many small pieces, a jumble. A number of small 12mo and 16mo black books, cloth-bound, on rag paper—which is good.
And also many very nasty things. All mixed up together—which is bad.
We need to take every goddamn one of them out of the boxes, look at them all, clean them all, and cull the sick and wounded. We enter triage mode.
When you're doing book triage, each experience is different. Unique simple rules must be developed to handle the problems of every different stack of old books, but there are standards rules of thumb: First, any damp book gets trashed immediately. Any book with birdshit on the pages, trashed immediately (the covers can be cleaned, sometimes). Also: books with live silverfish and firebrats; books with no binding or covers; books missing big chunks; books with white mildew thriving on them; books that have been wet and dried into materials resembling engineered wood products more suitable for building (or perhaps sculptures). And books that smell of cat pee.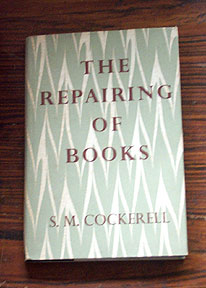 First box I open contains a good omen: The Repairing of Books.
Unfortunately, the good omen takes some time to kick in. Around lunchtime on Day One of the Great Sorting, I come across this lesson in terror. Many of my readers are, I know, book people. "Bookworms," yes? Some are perhaps flattered, like smart people who like to be thought of as "eggheads."
Don't be hasty. Have you ever seen what a bookworm does? As a human bookworm, you should be terrified of the real thing, and offended by the moniker. Here are the front cover, a middle page, and the back cover of a book devoured by bookworms. See this, ye bibliophiles, and experience true terror. Note that the final image's "blotty shape" is actually a void about forty pages deep, and that the little holes my fingers are near in the second image pass through the entire book from front to back: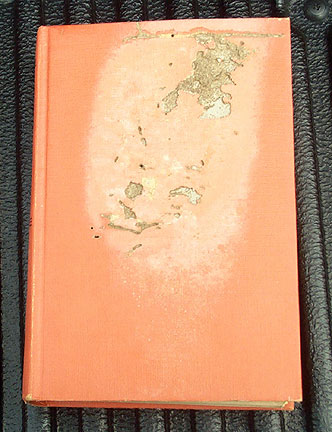 [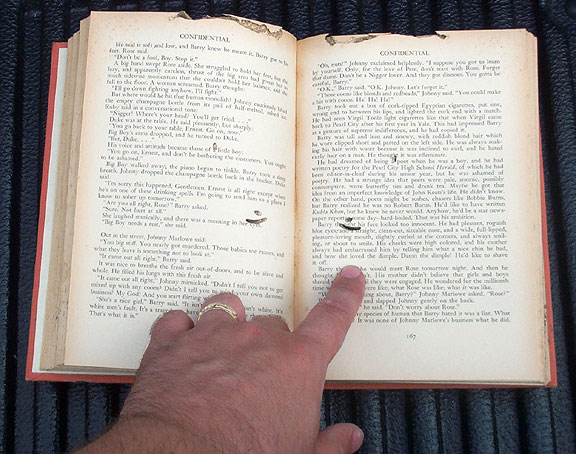 [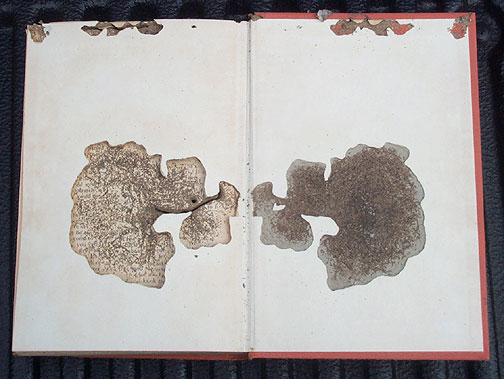 [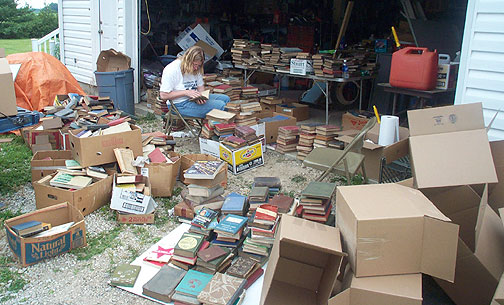 But these few items are nothing in the scope of the whole pile. Barbara and I spend much of both days crouched on folding chairs in her parents' driveway, moving piles around, checking to see whether each volume passes muster and is more or less uninhabited. Anything that is particularly rare or valuable wins tacit points, even if it harbors a thriving crop of mold or city of bugs, and is set in the noonday sun to cook and dry.
After a few hours, it starts to dawn on me: It's not that bad, after all. The number of dead books is running at around 1/3, and of the remaining 2/3 there are some unique and clean and lovely treasures. We take all care to keep them well away from the critters, and wipe and de-smell them as much as possible.
You know, with a dab here and there, some sun, and maybe a little make-up, they'll clean up real purty.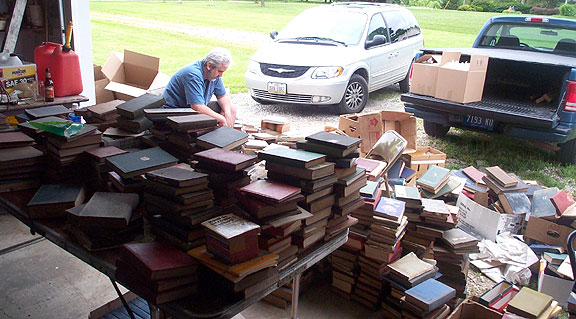 By the end of the first day we have made our way once through the whole intimidating stack.
If you'd asked me back at Dairy Queen I'd've said we would have to just haul them all straight to the dump. Now I know: We are not doomed! Even though our muscles ache and our minds are worn down with the incessant litany of, "Oh, look at this! A German book on the works of Plato!" "Oh, look at this, a bound volume of 1870s sheet music, infested with silverfish! Aggh!" "Oh, wow, check out these Arts and Crafts gardening books!" "Damn damn damn damn, there are 45 of 46 volumes of this Waverley set!" &c &c And, of course, "Eeew. Ugh. Ick. Whew."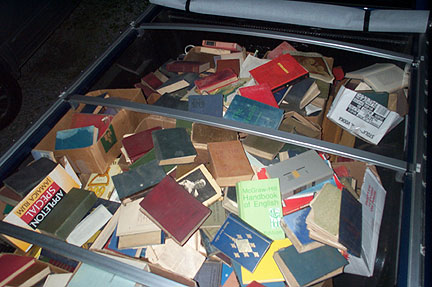 Now then, a didactic word in your ear, gentle reader: Let us all pause a few moments to mourn the passing of the greats shown in this picture, some of which were in fact unique author-signed volumes, and partial sets of early 19th-Century works, and illustrated with cunning wood engravings or chromolithographs, or were even Book of the Month Club Special Selections or 1960s high-school English textbooks…. But we cannot save everybody. All must, in their own time, die.
So at day's end, exhausted, sore, and sunburned (silverfish are not the only ones injured by ultraviolet and dryness), we gave it all up and sat surrounded by a pile of trash, and a pile of "keepers".
I feel like a general after a very bad turn on the battlefield: Thankfully, the majority are still here with us today.
9:12am 21 June 2004 [add 144 more miles to account for the trip to the landfill]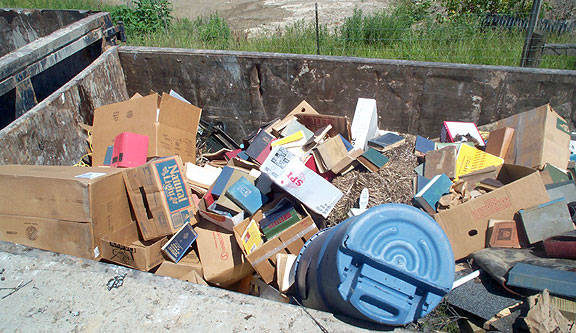 Authors: reflect with care. Conceit and vanity may lead you to imagine the final resting place of your work as a well-dusted University library shelf, or a remainder stack, or even (at worst) in a decorative stack in a furniture store. Nope. For these few hundreds, as with untold millions more, the final resting place is a combination of (a) the guts of some bugs, and (b) the Buckeye Waste SVC tip just north of Bellefontaine, OH.
Day two of the Great Sorting will involve cleaning as many as possible of the healthy and wounded (as opposed to the dead, now buried). Meticulously, each damp or buggy book must be sun-dried; each bird-limed cover carefully chipped and wiped with a damp cloth (then dried); every filthily dusty cover and edge (six, recall) of every dusty tome wiped with a Swiffer and a paper towel; each interior page that has birdseed or mouse droppings fluffed and puffed and fluttered until it's clean; each bookworm-eaten volume examined to see if the damage might be innocuous or severe. Triage, in other words, must go on.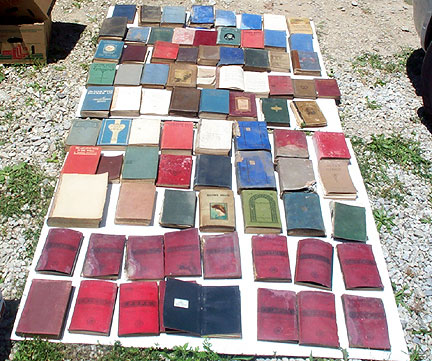 Indeed, this is the day for Barbara's main focus, the treasure I used to tempt her into the whole irredeemably dirty act: the Project Gutenberg books. There are those books that had to be destroyed. There are those books that should be kept or sold. But there is a sad, ragged crew of books that are "complete", but undesirable, whether through mildew or missing covers or diverse inhabitants. All yesterday we set these aside, and today Barbara logs into the Gutenberg HQ and checks to see which (if any) are already present in the archive or logged for copyright clearance. A substantial stack pass muster, and so someday soon we'll rip them up and pass then fast (and fastidiously) as possible through the scanner so that their contents can be saved and passed along to posterity.
At the end of the day, we have all fourteen of the clean boxes (the 12" x 12" x 16" special book boxes from Uline), packed full of miscellaneous mostly-cleaned books that range from "good enough" to "wow". There are about 100 books in the Gutenberg-worthy category, and we'll just leave them here in Barbara's parents' garage. Another six to ten boxes' worth of clean and dirty books remain.
About 1000 books, as I judge it. About 5% are scarce and rare and extremely desirable. About 5% are commonplace, but nice enough to sell, for example early 1940s BOMC romances. But the rest, the big bulging middle of the bell curve, we still have to research. Now that we know they're nice, the remaining work is intellectual. Online. Detailed.
As for the future, well… At least some of that 5% of the neat stuff is mine. We went and got them. We paid for them. We're fixing them up, as needed. And so we get to keep them. Because they're cool as shit.
Some of the rest are Barbara's, often somewhat hurt or infested or infected but still containing all the words and pictures, lost words of lost authors, little-known but well-regarded. So soon she'll scan and share and post them, as time allows. There are some beauts in this fraction, too. Real treasure—not of the monetary sort, but rather the sort that makes you smile and teaches you about the way the world is. And was. Words learned and foolish, from women and men long dead and wrongly forgotten.
The rest? The rest are yours. Well, somebody else's. They'll help pay for the trip itself.
I'll let you readers know about the auctions as they crop up. After all, you're such a good reader anyway, having made it this far through a simple travelog, that you deserve a special notice. As we crack open the clean boxes—the disinfected and pest-controlled boxes, mind you!—we'll let you know what antiquarian treasures appear. They're there. Because they're still all in a jumble.
But it's a clean jumble, now. And one with distilled potential.
So, thank you, JH. Thanks very much. I'm pleased as punch. The pig in the poke turned out to be far better than it could have been. The bad is gone, the best is mine, and the rest is worth the effort.
Consider this the longest positive feedback you—or any other eBay user—has received.